LET'S HAVE FUN WALKING THROUGH OUR "WINNER" WONDERLAND … WITH PEPE.
NOW , I,  WINTER WHITE MAKE THIS  DECLARATION AND ASK THE QUESTION TO THE PEOPLE …
WHO ARE "WE" … ?
WITH LOVE FROM ME, WINTER WHITE, AND MY FROG FRIEND, PEPE …
 THE STORY UNFOLDS JUST LIKE THIS …
AS I BLOW YOU A FINAL SNOWY, WINTER WHITE KISS …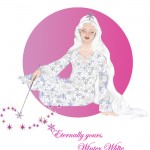 HE CAME TO VISIT ME ON A WINTER NIGHT…HIS EYES SHINING VERY BRIGHT…
HE WAS DRESSED FOR THE SNOW WITH MUG IN HAND, CAP ON TIGHT…
"COMFY" PEPE HAD FUN WITH WINTER WHITE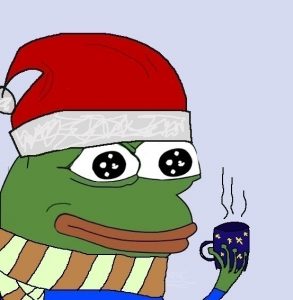 LISTEN TO PEPE
AS HE WAVES HIS MAGIC MEME WAND…HIS MAGIC SOUND WAND…
SHADILAY
(SUGGESTION:  LISTEN TO SHADALAY INSTRUMENTAL WHILE READING)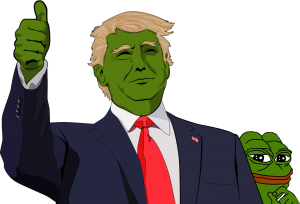 IS THIS A "GREEN GIANT" WITH PEPE THE FROG
WHO WILL DRAIN THE SWAMP AND CLEAR THE BOG?
SOME SAID LITTLE SWEET PEPE WAS A "NAUGHTZI" FROG ON NATIONAL TV AND ACROSS THE BLOGS…
Then there were the ones who said it was a Russian Plot …
But, Pepe interviewed Vladimer and got the scoop direct from Put …
So Trumpelstiltskin was vindicated and the fake news was caught.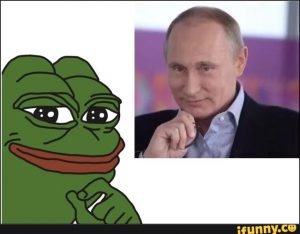 I SAY PEPE WAS A FRIEND NOT A FOE THAT HELPED "TRUMPELSTILTSKIN"© AS HE WAS ON THE GO…
ALL ABOARD THE TRUMP TRAIN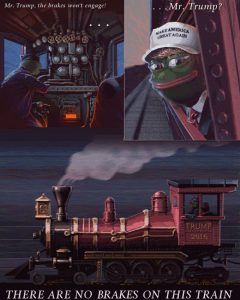 (THERE ARE NO BRAKES ON THIS TRAIN)
LITTLE PEPE HAS ALWAYS SHOWN LIKE LOVE-BUG GLITTER AS "TRUMPLESTILTSKIN"© CONTINUES POSTING HIS WISDOM ON TWITTER…
"TRUMPLESTILTSKIN"© ISN'T GREEN AS YOU WILL SEE…HE JUST LOVES HIS FRIEND WHO HELPED HIM WIN BY WAVING A MAGIC WAND OF FUN…A TRUE FRIEND, PEPEEEEEEE!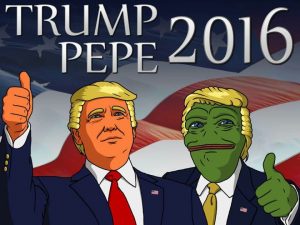 HOW DO YOU ASK DID PEPE BECOME A FRIEND TO "TRUMPELSTILTSKIN"?  
HOW DID PEPE HELP "TRUMPELSTILTSKIN" WIN?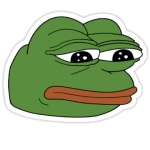 TAKE A LOOK BELOW FOR SOME FACTS THAT SHOW:
WHAT DOES P.E.P.E. (PEPE) STAND FOR?:  
"POINT…EMERGING…PROBABLE…ENTRY"
THE MOTHER OF ALL TEACHERS, WINTER WHITE WAVED HER WAND…USED HER POWER OF CREATIVITY ACROSS THE LAND…
AND A GIANT WAS BORN TO LEAD AMERICANS…TO WALK HAND-IN-HAND.
ON NOVEMBER 8, 2016…HE WON AND WE WON…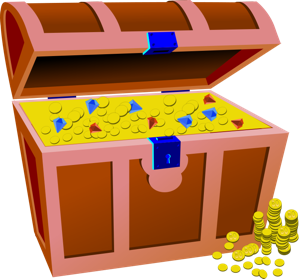 WE ARE WINNERS AS WE WALKED THROUGH A "WINNER" WONDERLAND OF ALL KINDS OF WEATHER…
NOW, HE AND WE WILL WALK THROUGH ALL THE SEASONS OF THE YEAR TOGETHER.  
IT'S TIME FOR THE COUNTDOWN TO PEACE AND PROSPERITY IN ETERNAL SPRING…                                                    WHERE LOVE AND JOY WILL REIGN SUPREME.                                                                                                                                                                                                                                                                                                                                                                                                                                                                                                                       
AS "TRUMPELSTILTSKIN"© TURNS STRAW INTO GOLD…
A STORY THAT HAS BEEN WRITTEN … BUT A STORY YET TO BE TOLD …
(STAY TUNED FOR THE ANNOUNCEMENT OF A UNIQUE CHILDREN'S BOOK, "TRUMPELSTILTSKIN, PEPE, AND THE PATRIOTS© TO BE RELEASED IN 2017.)  
WHO ARE THE PATRIOTS BY TRUMPELSTILTSKIN'S SIDE THAT MADE THE DIFFERENCE THAT TOOK THE RIDE?  
STAY TUNED…
WHO IS TRUMPELSTILTSKIN© REALLY?                                                                                                                                                                                     
AS IN THE CLOCK BELOW…TIME WILL TELL BECAUSE "WIN"TER WHITE IS ON HIS SIDE…
FROM THE STORIES "GRIMM" TO A GOLDEN "GEM"…TRUMPELSTILTSKIN BEGINS HIS RIDE
FROM THE DWARF NAMED RUMP … "WHO SPUN"…
TO A GIANT OF A MAN CALLED TRUMP "WHO WON"…
"TRUMPELSTILTSKIN" IS HIS NAME AND, LIKE ME "WIN"TER WHITE …
"ALWAYS WINNING" IS HIS GAME …
FROM THE DWARF NAMED RUMP WHO DIDN'T REGARD HIS "BIG MOUTHY MEASURE"…
TO A GIANT OF A MAN NAMED TRUMP… BRINGING EVERYONE "GREAT TREASURE"…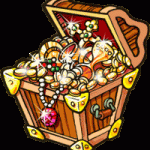 THIS STORY CAME FROM A FABLE LONG AGO OF RUMPELSTILTSKIN THE DWARF WHO JUST KEPT SPINNING …
TO A TRUE STORY NOW WHERE THE GIANT "TRUMPELSTILTSKIN" JUST KEEPS WINNING 
AVAILABLE NOW TO ORDER  at www.mrtrumpismypresident.com
A Positive, Patriotic Children's Book for our 45th President of The United States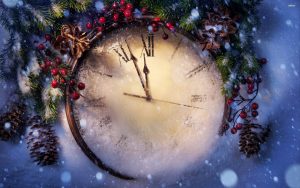 The Clock of Seasons will soon turn from the cold dark Midnight Sun of Winter White who loves to ride with Trumpelstiltskin through the night.
THE MOTHER OF ALL TEACHERS works in mysterious ways to guide you through the Earth's next phase …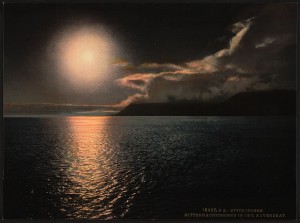 To a gentle and kind new Sweet Spring …
where the people once again will "sing".  
"Do You Hear the Song of Spring?"…"Do You Hear the People Sing?"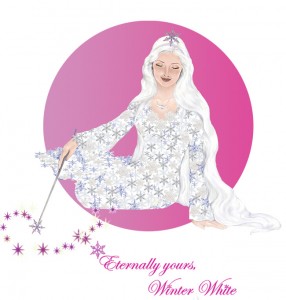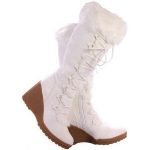 Remember, Winter White says these boots are made for walking and that's just what they'll do…these boots are made for walking right into Spring with YOU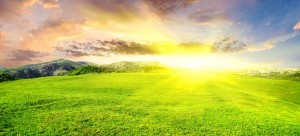 THE DAWN OF SWEET SPRING
GENTLE AND TRUE
JUST LIKE TRUMPELSTILTSKIN…JUST LIKE YOU. 
RUNNING…JUMPING, SKIPPING…HOPPING …
SPRING WILL BE ABOUT A TIME OF SHOPPING …
TOPPING THIS AND TOPPING THAT
CHILDLIKE LAUGHTER FROM THE OLD TOP HAT …
WINNING THIS AND WINNING THAT …
A GRIN FROM EAR-TO-EAR LIKE A CHESHIRE CAT.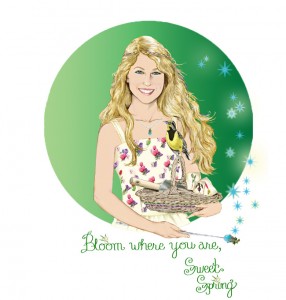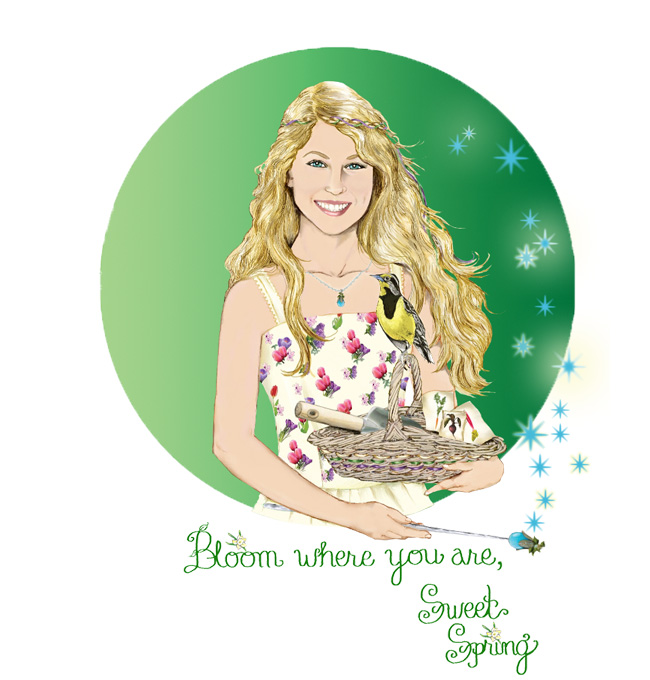 THEN AFTER SWEET SPRING…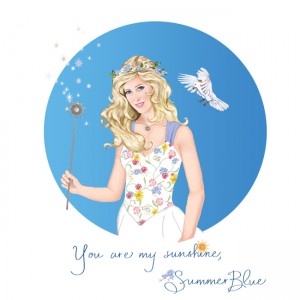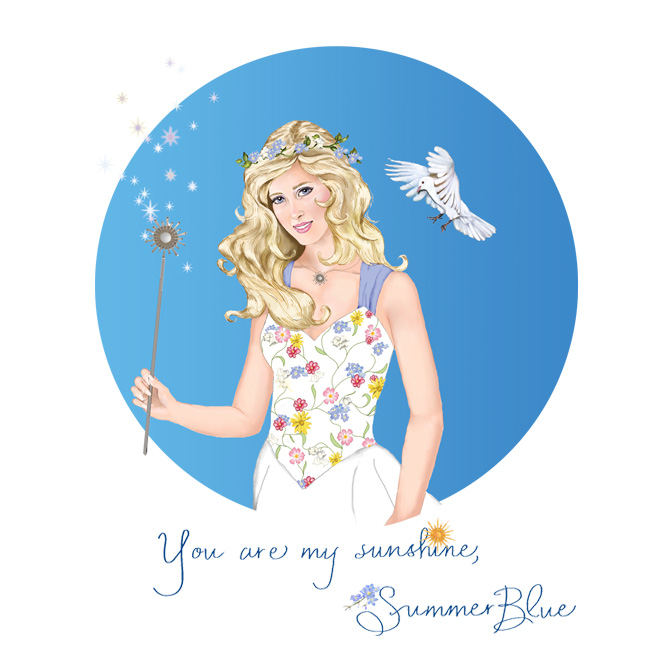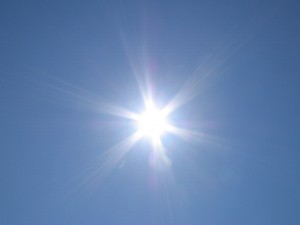 FUN IN THE SUMMER SUN WITH SUMMER BLUE …
"TRUMPLESTILTSKIN"© WILL BE THERE, TOO! 
SITTING BY SUMMER BLUE'S WATERFALL DRINKING IN THE SUNSHINE DAY …
SUMMER BLUE GUIDES THE TRUMPSTER ON HIS WAY …
THROUGH HER SUNSHINE LAND WITH SUN SO BRIGHT
TOWARDS THE WARM GLOW OF AUTUMN GOLD LIGHT.
WHEN AT LAST AUTUMN GOLD, THE GREAT HARVESTER ON THE CIRCLE AS HER GUISE,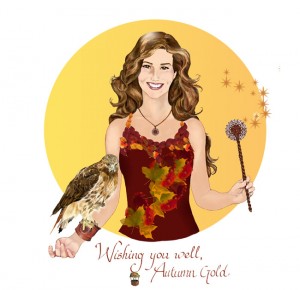 ARRIVES AND TAKES EVERYONE SURELY BY SURPRISE …
THE TRUMPELSTILTSKIN© HARVEST WILL BE BEYOND ALL MEASURE …
TO ADD TO YOUR BENEVOLENT, TRUMPELSTILTSKIN© TREASURE …
AUTUMN GOLD WILL WAVE HER MAGIC WAND ONCE MORE
FOR THE LIES AND THE BAD HEARTS HAVE TO GO …
IT IS THEN THAT THE TRUE HEARTS AND GOODNESS WILL BEGIN TO FLOW …
… THEN TRUMPELSTILTSKIN WILL FLOW RIGHT ON IN TO HAVE FUN IN WINTER WHITE'S SNOW.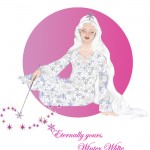 WITH WINTER WHITE, PEPE, AND TRUMPELSTILTSKIN ON A SNOWY DAY JUST BEFORE THEY GO ON THEIR WAY OUT TO WHERE THE CHILDREN SKATE ON THE FROZEN LAKES …
THE THREESOME SIT DOWN TO EAT BREAKFAST CEREAL…THREE DIFFERENT BOWLS…THREE DIFFERENT KINDS OF FLAKES …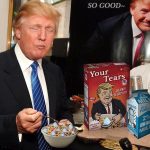 Trumpelstiltskin's Crunchy Cereal of Champions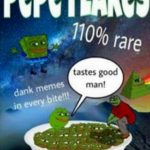 PEPE'S Green Puffed Rice Bites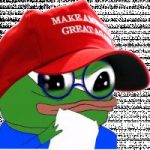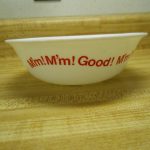 BULLETIN FOR FUN WITH WINTER WHITE 
Writing my inaugural address at the Winter White House, Mar-a-Lago, three weeks ago. Looking forward to Friday. #Inauguration
So who are we really?  We are Patriots…Stay Tuned…Talk soon…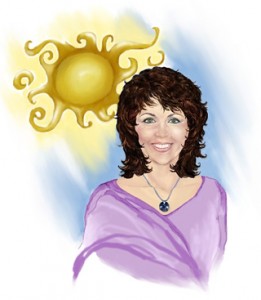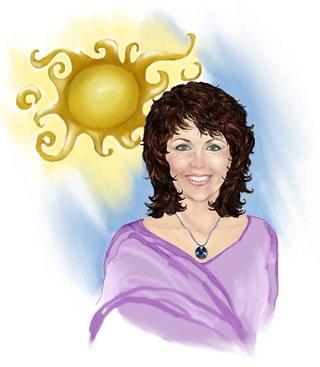 as YOU