Parents…give your children the gift of soothing, restful sleep with these original, unique dreamland stories and lullabies…a must for every parent who wants only the very best for their little ones as they drift off to sleep. Gabrielle's two-album CD offers children and adult alike a journey through their imagination at bedtime, nap time or anytime in between.
The Dreamland Adventure CD has unique bedtime adventures with background music that is original, soothing, and relaxing. This CD may be used in place of reading bedtime stories for a fun way of ending the day.
The Dreamland Lullaby CD which is instrumental only can take children into Dreamland sleep when parents need children to drift off to sleep peacefully on nights without story-time. The original music therapeutically relaxes everyone from the cares of the day sending them gently off to Dreamland's shore.

On the Dreamland Carousel you can choose to meet Winter White in her crystal white snowflake gown. She will take you to visit a night-time, winter-time land filled with a frosty adventure. You will meet her special friends the Clouds Steaming who work hard making snow fall for the children to build a snowman; Old Jack Frost, who is a crusty old prankster and Winter White's favorite sidekick; Moon Beaming, who is the Princess of the night sky and the Snowman who learns to dance and sing. So be sure to visit Winter White in the cold dark night as stars twinkle in the sky. She will always be waiting for you in a winter chill breeze.

You may choose to visit the garden of Sweet Spring as she teaches you about planting seeds and pulling weeds. In her world you will meet Meadowlark, Skunk, and Possum. You will understand the cycle of "new life" that begins in her season. You will also learn to plant only the seeds you want to harvest in autumn. You will experience the garden fresh and new and hear The Song of Spring. Sweet Spring hopes to see you soon at her garden gate…you'd better hurry…don't be late.

Or you can choose to visit Summer Blue's garden where the days are hazy and lazy. You can lay back and dream awhile or sit beside her waterfall as you learn to nurture and care for your garden that is growing in the warm sunlight. There you will meet Dove, Hoss Fly, Pigeon, Bunny Hop, Fish Flop and Sunflower. Summer Blue smiles all the while as warm sun shines and she holds back the days of fall. Summer Blue and Dove invite you to visit her garden and her summertime friends often.

If you choose to visit Autumn Gold's land of crunchy leaves and colored trees all ablaze, you can make a wish in her "Wishing Well". She will introduce you to Hawk, Scamper Squirrel, Pumpkin, Apple Dumplin, and her special friends, the Harvest Basket of vegetables from the seeds you planted in Spring. She will teach you the importance of the harvest for it is the time in the garden before the rest again in winter. Be sure to visit me in my autumn-time land soon says, Autumn Gold and I will share the secret of a garden with you.
For more adventures on the Dreamland Carousel, travel through Scoop Flutterby's butterfly land, or meet the Flower-Fairies as they sprinkle their fairy dust with "gifts just for you" along the way. Then be sure to hop on the back of the Midnight Blue Pony and travel to meet her little star friends of different colors. ….What a magnificent ride you will have through the starry, night sky!

You won't want to miss meeting the Princess of the night, Moon Beaming, as she shines her "light flash" down on you from the sky to light your way through the moonbeam night. Many fun Moonbeams dart and fly across the sky. They play a game called "catch a moonbeam" if you can in this night-time, play-time, dream-time land. Visit Moon Beaming often as she lights your way into an adventure with her moonbeam friends.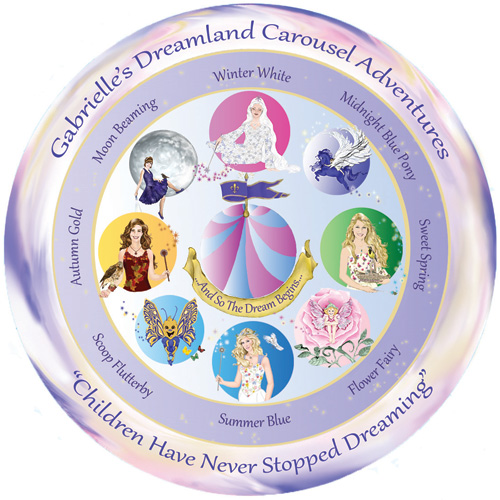 The first song that was written for Gabrielle's Dreamland Carousel Adventures is entitled "Children Have Never Stopped Dreaming". This song says it best for what you will experience as you travel through the different adventures.

"Since the beginning of time…ever since there was rhyme…"Children Have Never Stopped Dreaming".
Children sleep. so they can keep…night after night…keep dreaming.
Dreams can seem so very real… Dreams can make you feel…like no one else in all the world.
For you can spin…you can twirl…be a boy…be a girl…
Take a left…then a right and land smack dab on Ol' Midnight…Somewhere in a Dream.
Dreams have wings or so it seems for "Children Have Never Stopped Dreaming".
Time after Time and Night after Night…children always take the flight to a land so fair that 's waiting there just beyond a snore.
With eyes shut tight in sheets of white….And So The Dream Begins.
Where day is night and night is day and dreaming never ends.
Where day is night and night is day and all there is to do is play.
Where everything is and isn't too…where blue is black and black is blue…where "Children Have Never Stopped Dreaming".
In the land of Dreams…all is not what it seems…for anything's possible there.
So be what you want, let your Dreams come true in the Land of Who, What, and Where.
Time stands still on every hill…waiting to show the way. Through sleepy skies lit with fireflies…turning nighttime into day.
So come if you will, it's just over the hill of the pillow that lies under your head. And you'll find on your way…maybe next day…
You'll be oh so much richer from dreaming.
Be like a child…imagination run wild for "Children Have Never Stopped Dreaming".
Be like a child…imagination run wild…so "Children Will Never Stop Dreaming".