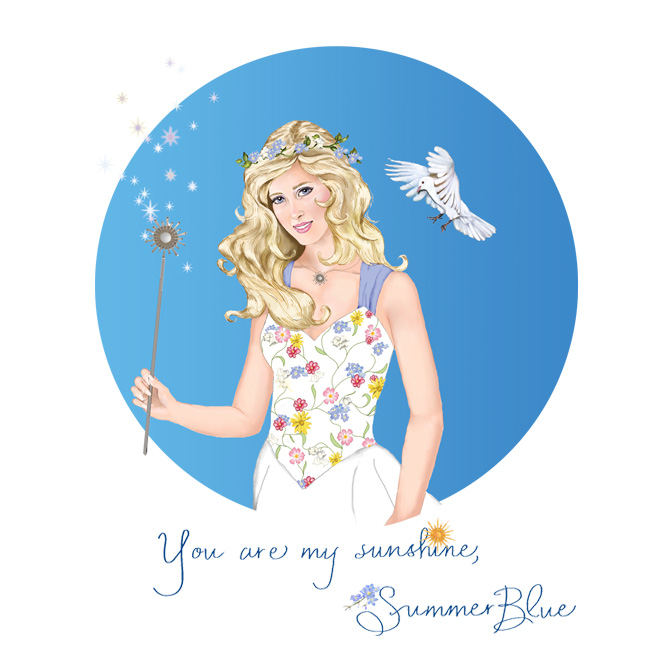 HELLO, I AM SUMMER BLUE
I AM DRESSED IN MY SUNSHINE, SUMMER DAYS OF FLOWERS…DAISIES, FORGET-ME-NOTS, LILIES OF THE VALLEY AND COLORFUL COSMOS IN SHADES OF YELLOW, BLUE, WHITE AND PINK.
COME INTO MY WORLD AND YOU CAN MEET ALL MY FRIENDS…DOVE, BUNNY HOP, FISH FLOP…ONE, TWO, THREE…CATCH A WISH NOT A FISH DON'T YOU LOOK AT ME. THEN MEET SUNFLOWER, HOSSFLY, AND PIGEON WHO FLIES INTO EACH WORLD AND THEN BACK TO SUMMER BLUE'S LAND.
COME TO THE EDGE OF RIVER'S LEDGE OR SIT BESIDE MY WATERFALL.
I WILL TEACH YOU HOW TO NURTURE THE GARDEN FOR THERE ARE PLANTS OF ALL KINDS…
AS THE SEEDS PLANTED WITH SWEET SPRING GREW INTO PLANTS, STALKS AND VINES.
Summer Blue's Lullaby

Summer Blue's Adventure