One of our last Summer Greetings…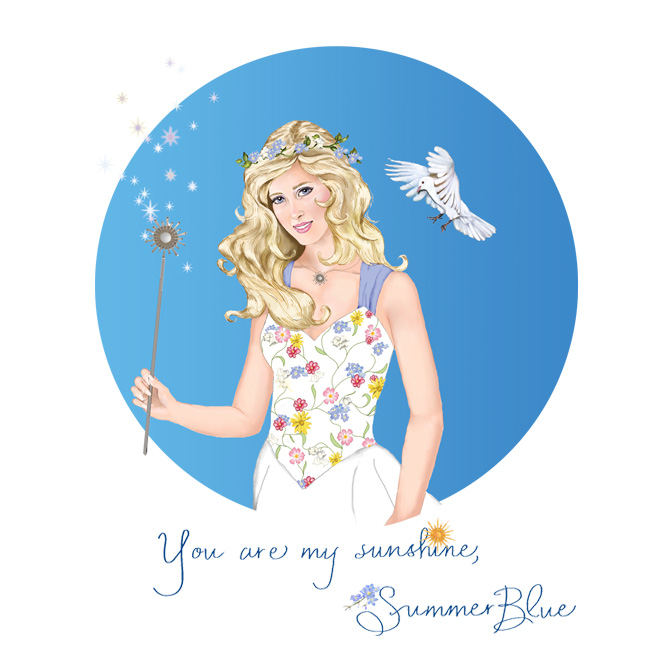 before Autumn Gold arrives …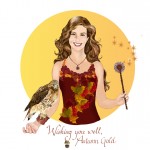 We don't have many more days of Summer Blue left, but our final group of Garden Gnomes arrived to take their place in The Better Gnomes and Gardens to spend the last days of summer with us.
Remember that I told you in a previous story that another group of Gnomes would be arriving soon at 
The Better Gnomes and Gardens Bunkhouse.  
In case you don't know what a "bunkhouse" is, it is a building offering basic sleeping accommodations for workers, visitors, or campers.
They have arrived and taken their places to visit, work and camp out!
They all say together…
"There's No Place Like Gnome"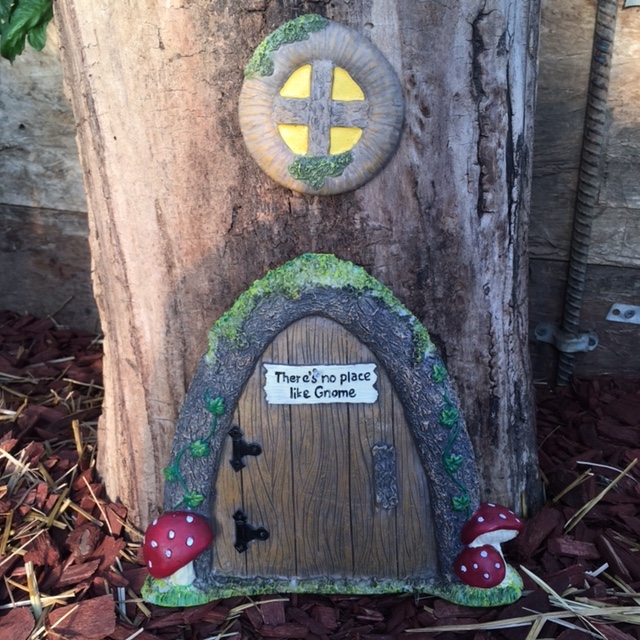 Let's take a tour to meet and greet our new arrivals both in this story and in a video so you can actually see them and get to know them better.
Upon entering The Better Gnomes and Gardens Bunkhouse, the first Gnome you will meet is William with his bird Tweety.
William, sometimes known as Willie, lays on a "Welcome to my Garden" sign.  
A Gnome Door where the Gnomes arrived is in the tree stump just below William.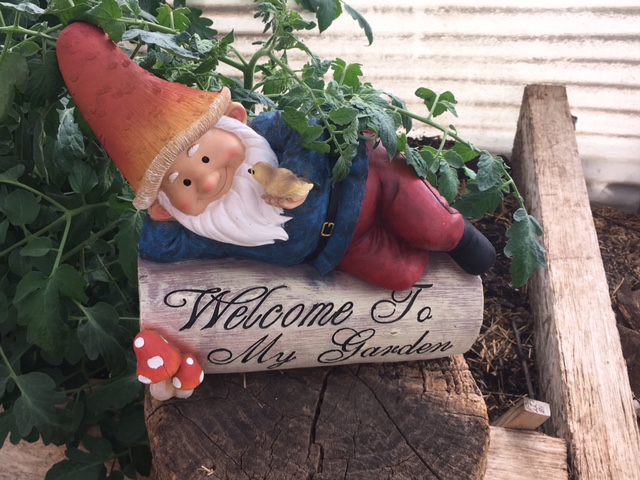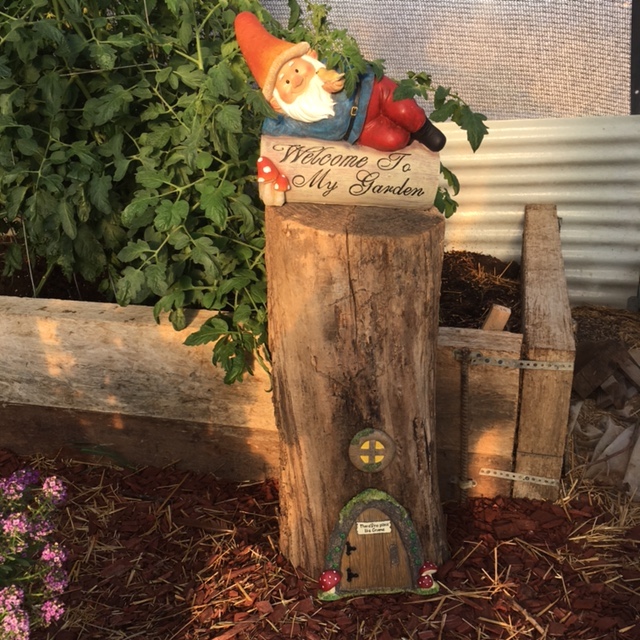 William is a laid back kind of fellow who is very sweet.
I think he might have been named after the flower "Sweet William"…which is also called Dianthus barbatus (Sweet William) [2] is a species of Dianthus native to southern Europe and parts of Asia which has become a popular ornamental garden plant.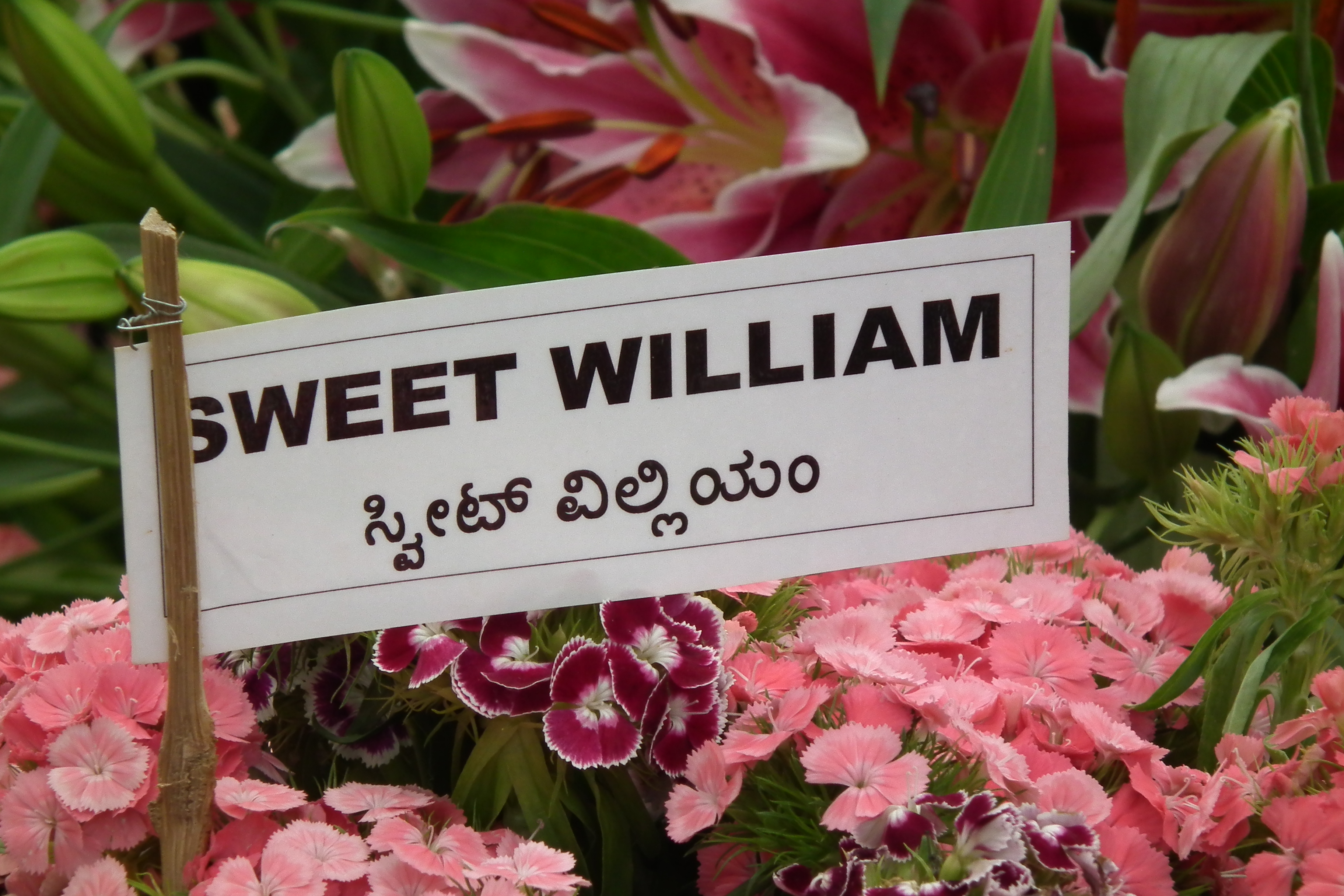 Next, a new arrival who took his place in the middle garden bed is Milton, who is sleeping in a hammock below a Mandevilla vine. What is a Mandevilla vine, you ask?  
Mandevilla (Mandevilla splendens) is native to Brazil. It has glossy leaves and striking trumpet shaped flowers. It is generally grown as a vine but can also be pruned to maintain a shrub-like upright shape.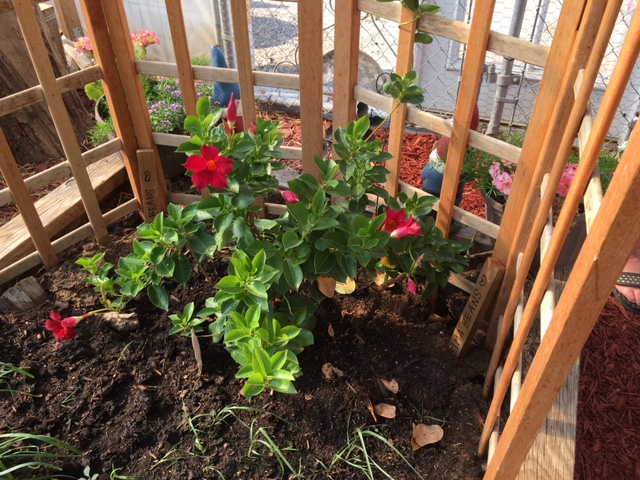 Shoosh…Milton is taking a nap.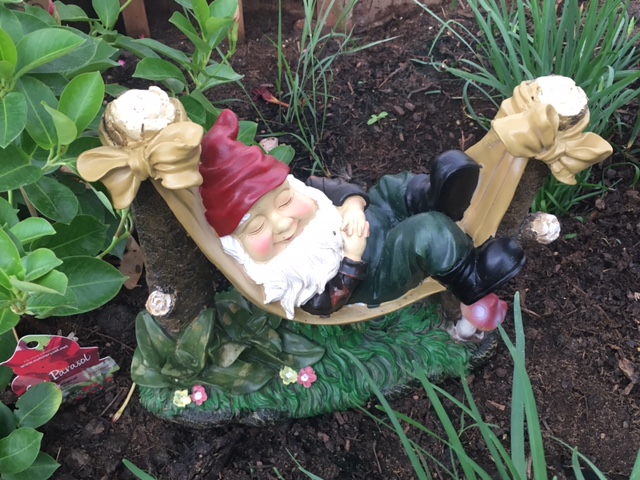 Looking left into the middle garden bed, you will see Rockley as he rocks in his rocking chair and reads a book.  
Do you know who is sometimes credited for inventing the "rocking chair"?  
American inventor Benjamin Franklin is sometimes credited with inventing the rocking chair, historians actually trace the rocking chair's origins to North America during the early 18th century, when Franklin was a child. Originally used in gardens, they were simply ordinary chairs with rockers attached per Wikipedia, the free encyclopedia.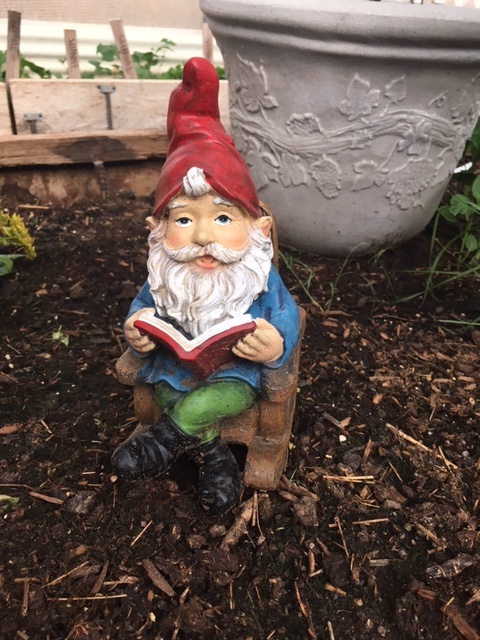 As we look up above Rockley,  we see two trellis's where Swinging Sam is having lots of fun as he swings away the day.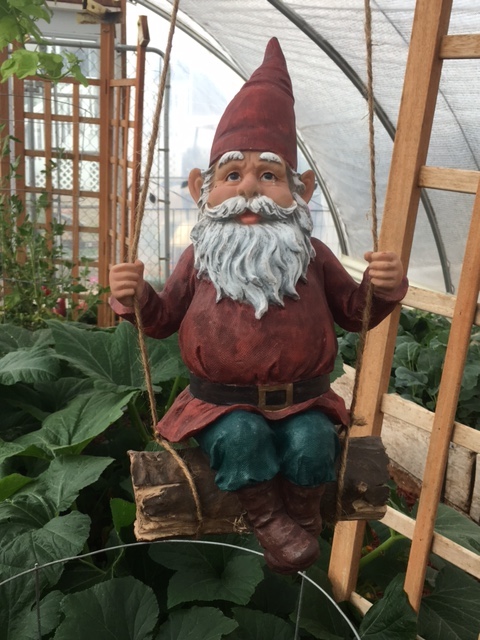 Would you like to know who invented the "swing"?  Here is one thought:  
"Last year the Daily Mail ran a piece asserting that they had photos of the 'world's first playground slide', as invented by Charles Wicksteed. This year they're at it again, claiming that his swings at Kettering Park in 1923 are "what is believed to be the world's first playground swings"! 
Back down we go to the middle garden bed to greet Gunther who is about to sneeze.  He has Blue Bird on his one finger and the other finger on his nose.  Can you say Gezundheit and do you know what that word means.  
It is a German word that is used to wish good health to a person who has just sneezed.  
Gezundheit, Gunther…have a good day.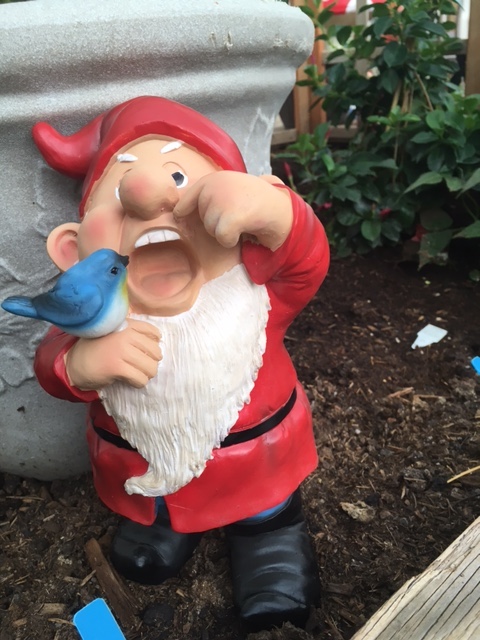 Do I see two Gnomes on a climbing adventure with their ladder?  Why yes, it is Cadmon and Alfred…
Why are you hiding Cadmon?  All I can see are your eyes.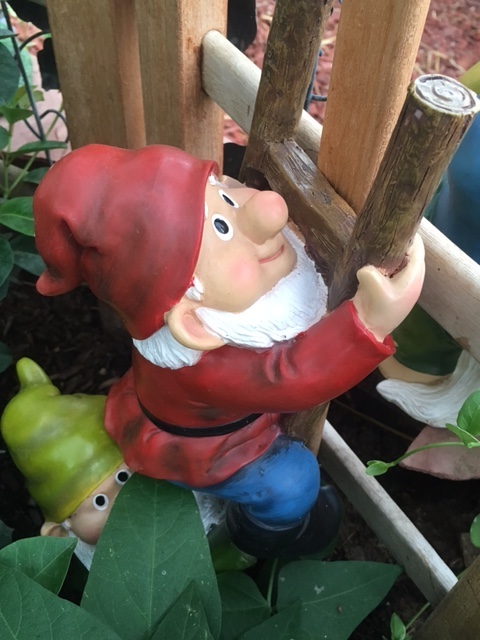 Here is some history on who invented a wooden step ladder according to Wikepedia.
John H. Balsley (May 29, 1823 – March 12, 1895) was a master carpenter and inventor, inventing a practical folding wooden stepladder and receiving the first U.S. patent issued for a safety stepladder. He was born in Connellsville, Fayette County, Pennsylvania to George H. and Sarah (Shallenberger) Balsley.
At the end of the middle garden bed we find Handstand Henry performing his acrobatics across from the waterfall.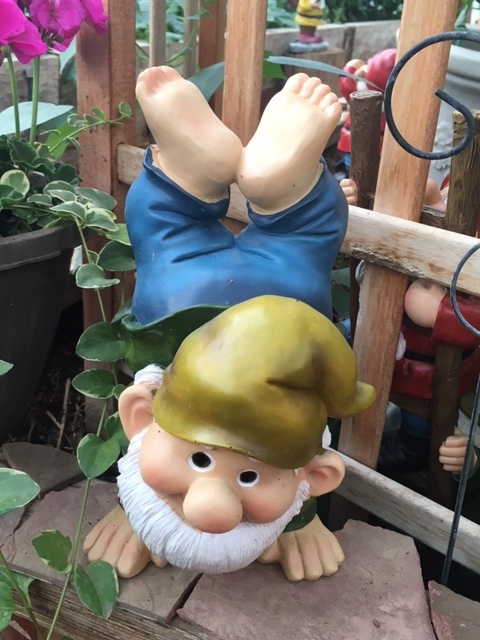 Good job, Henry…be careful doing your handstands.  
Just so you know 
(Origin of handstand was 1895-1900)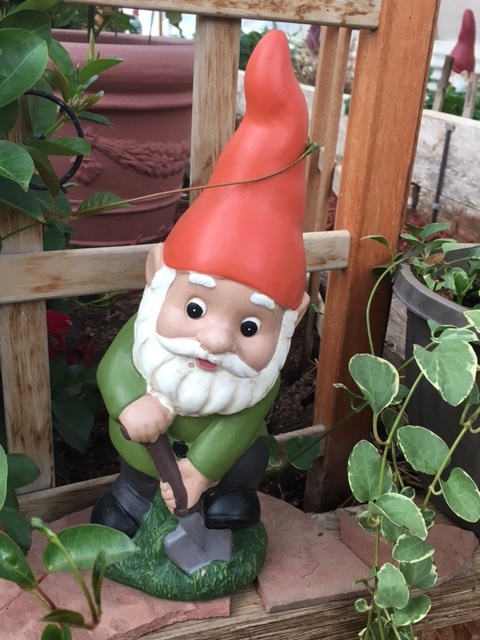 Last but not least is Ridley who carries his shovel in case there is work to do around The Better Gnomes and Gardens. 
Did you know this fact about shovels?  
In neolithic times and earlier a large animal's scapula (shoulder blade) was often used as a crude shovel.
Stay tuned for the next blog coming in the next day or so where you will meet the rest of the Gnomes that arrived…
Here is a short video of some of our Gnome friends.
(another video to come soon to include new arrivals)